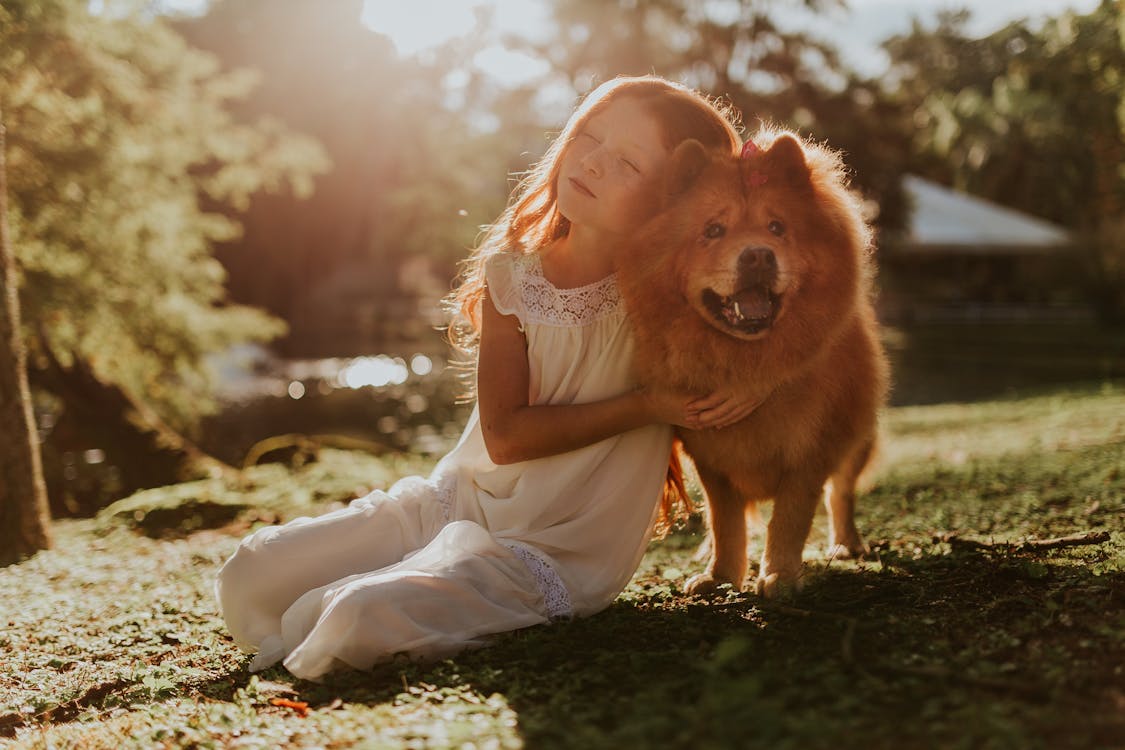 As part of our series on dealing with dogs who suffer from phobias, our last post discussed how you might go about helping your dog with their fear of other dogs. This is a real issue for some dogs and their owners, who might have uncomfortable run-ins with other dogs on a daily basis. Other fears your dog might struggle with can include:
Vets;
Men;
Strangers;
Cars;
Specific objects;
We plan on covering all of these fears over the course of the series, but for now we're going to talk about what you might do if your dog is afraid of children.
We all know and love those photographs of children playing and cuddling with their favourite doggy companions. There are thousands of these photos, and hundreds of films and books imagining what these playful pairs might get up to. You may be surprised or disappointed, then, to hear that dogs who are afraid of children aren't all that uncommon.
A dog's fear of children makes sense when you think about how they tend to communicate with the world around them. Dogs can't use words like humans can, so they communicate through sounds and body language. A dog who is used to living with adult humans will be accustomed to the sounds and movements they make. Children speak in a higher pitch to adults. Their steps are unsteady and faster. Their movements can be jerky and unexpected. It's entirely possible that a child might hurt a dog by accident, or even fall and land on them. When compared to an adult, children and babies could very well appear to be part of a different species entirely.
What might be even more upsetting for a dog is that the presence of a child can also alter the behaviour of the adults around them, making even the most trusted human suddenly unreliable.
How can I tell if my dog's afraid of children?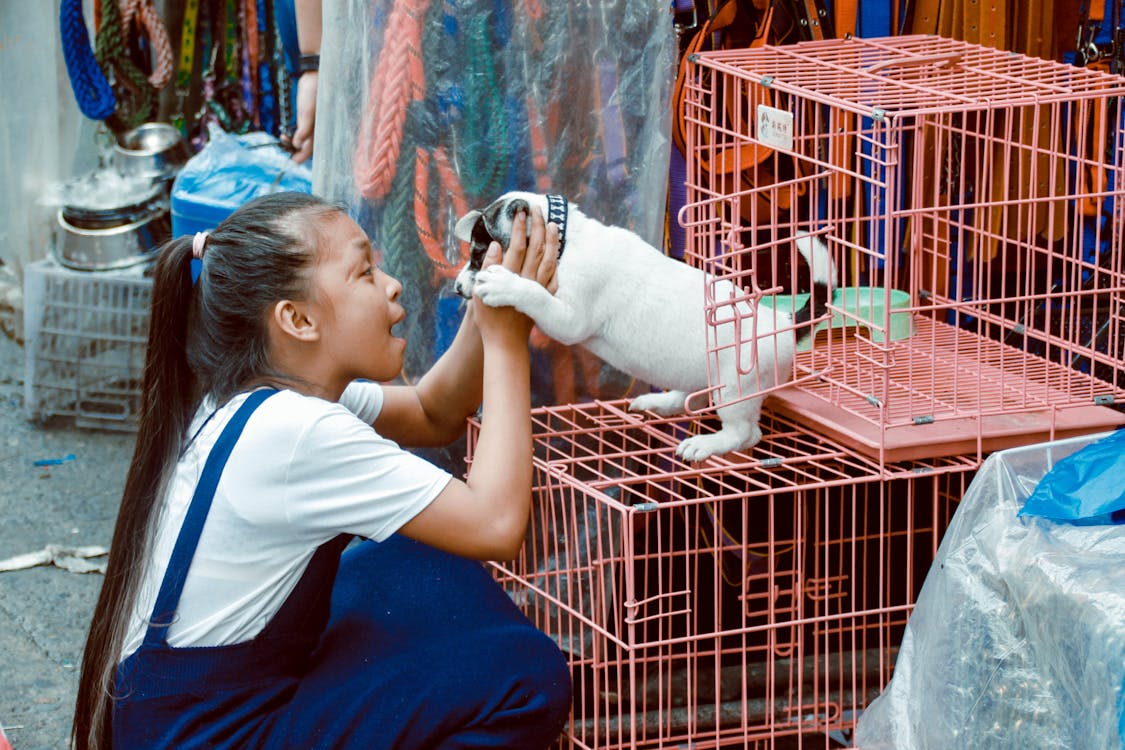 Indicators that your child is afraid of children are much the same as those exhibited with any fear. The signs below are indicative of extreme stress and your dog should be removed from the stressful situation if they are exhibiting these signs around children. The behaviours a scared dog might show around children can include…
… attempting to hide or escape;
… shutting down or going stiff when children are nearby;
… showing teeth (lip-lifting) and snarling;
… biting or nipping (especially when trapped);
… lunging or yapping;
… lowering of head, increased eye contact;
… shaking, rolling over or recoiling.
In some cases, these behaviours can be fairly subtle so if you think your dog might be afraid of children, watch them carefully!
How can I help my dog recover from their fear of children?
If your dog's fear is of children who visit your home, you need to manage this situation. Begin by identifying an area in your house where your dog can go and where you can prevent children from entering. For example, you may have a room where you can close the door, or set up a baby gate. Make sure children are supervised at all times, as you can't always trust kids not to open a door or try to touch something through a gate.
Begin training by having children you can trust to behave calmly walk past at a safe distance from your dog while providing your dog's favourite treats. Your dog should be kept on a leash for safety, but should eventually come to associate the presence of children with good things.
If your dog's fear is an issue when children are present outside the home, try avoiding parks and schools where kids might be playing.
Always keep socialization fun!
As we've mentioned in many of our Phobia Series posts, flooding isn't generally the best technique when it comes to training your dog out of fearing something. If you want your pup to enjoy something, you need to make sure their experiences of that thing are relaxed and enjoyable. Make sure your dog knows that you appreciate it when they gently check a child out, but don't force them to do this until all parties are ready.
For example, if their fear of children causes them to act timidly, you can help your dog by getting some quiet, calm children to just sit quietly and spend time making sure your pup is happy and safe. Socializing your dog doesn't need to involve throwing them in at the deep end with a crowd of noisy kids. Don't exhaust your dog by forcing them to process sounds and sensations that are scary.
Start by introducing children one at a time, not all at once.
Are your kids animal-friendly?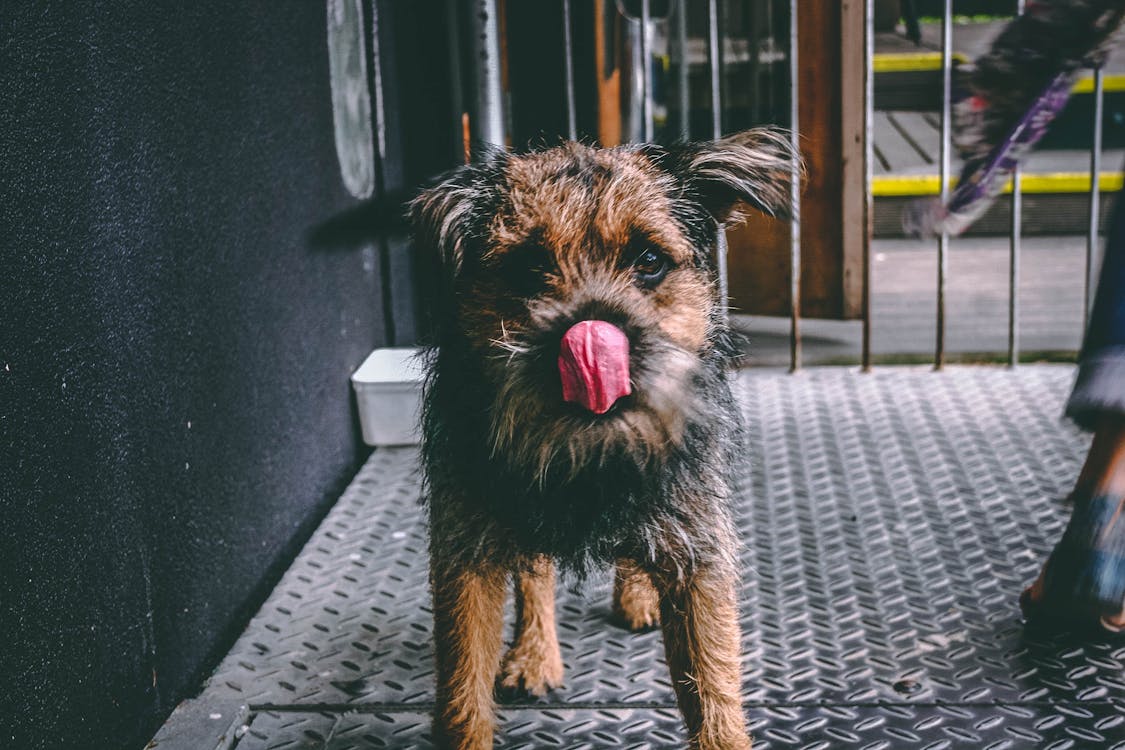 In some cases, the issue might not be with your dog at all. It could be the children who are the issue. It can be pretty difficult to find children who are actually good with animals, especially when they're very young. Animal-handling skills aren't generally something that comes naturally to a kid. It's something that has to be learned, so they won't always get it right the first time.
Relatively few children will happily sit still, watch another child pet a dog without getting jealous and piling in, stay calm and respectful, pay attention to where a dog actually likes to be pet or take care to pet gently. If your kid isn't instantly perfect at handling a dog, try learning what works together. This can be a great bonding opportunity for you, your child and your dog.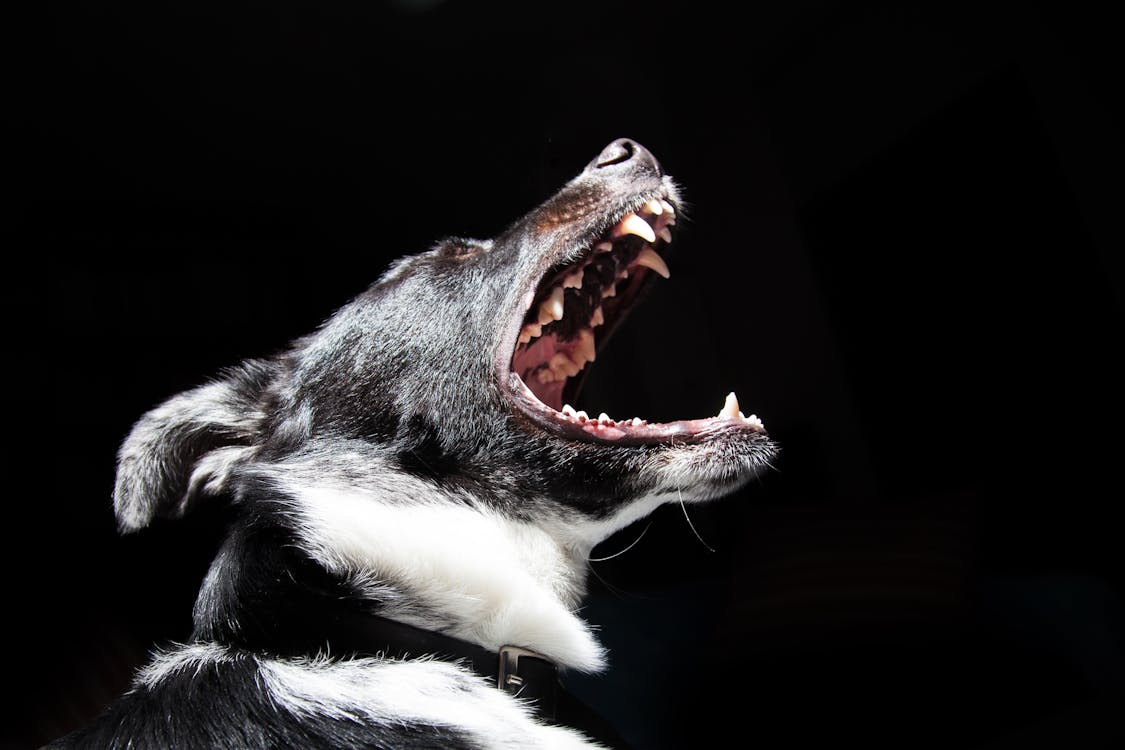 Last month, we met Ciarra and Keisha, two gorgeous kitties looking for adoption through Hunter Animal Rescue. The pair are still waiting to find their forever home, but if you think you can provide one you can check out their page on Hunter Animal Rescue's website. When we first met them, Ciarra had just returned from a visit to the vet and had just received a polish, one tooth extraction and a descale. For this reason, we thought it would be a good idea in our last post to talk about some of the best ways to look after your cat's dental hygiene.
But of course, your cat isn't the only pet whose teeth you need to keep in tip-top condition. Between the regular vet checkups, fitness and quality food, we put a lot of effort into making sure our canine companions are healthy. But it can be so, so easy to overlook their dental hygiene. Conditions like periodontal disease can easily occur when the deep bone structures of your dog's jaw are separated from the teeth by calculus, allowing abscesses and pockets to form.
Experts have suggested that around 85% of dogs over the age of 4 will be living with a type of periodontal disease, which can easily lead to infection and tooth loss. If your dog has damaged gums or toothache, they'll be living with difficulty and pain that you may not even have noticed. A dog's teeth are often forgotten about, but they're a major part of their overall health.
As with oral hygiene issues in cats, bacteria from your dog's mouth, if left untreated, can reach the bloodstream and cause real issues in their kidneys, liver or heart. Fortunately, all of these issues can be avoided with the help of regular tooth-brushing and visits to your doggie dentist.
Doggie Dental Diseases
When your dog has good gums and teeth, they'll get to enjoy every last morsel of food they can get their paws on, but with unhealthy teeth, this will quickly come to an end and your pup will no longer be enjoying their food. This can be very bad news. So what should you be looking out for as a concerned puppy parent?
Plaque develops when the bacteria constantly forming in your dog's mouth get the chance to mix with food and saliva. This appears as a colourless, sticky film on the outside of the teeth, especially the upper molars and pre-molars. If plaque is allowed to build up, it can harden and turn into calculus. Plaque and calculus can be helped to a certain extent by dry dog foods, but you will also need to provide some dental care to keep everything healthy.
Calculus forms when plaque is allowed to stay on your dog's teeth for around 3-5 days and combines with the minerals in their saliva. This is also known as tartar and can be very irritating to a dog's gums, leading to reddened, swollen gums as a result of gingivitis. Gingivitis can also cause bad breath, which can be rather noticeable.
Periodontal disease is more likely to become an issue the longer calculus is allowed to build up under your dog's gum line. This is where your dog can begin to struggle with bloody gums, lose teeth, struggle with food and suffer damage to their internal organs. Bacterial growth is allowed to progress unnoticed, eventually causing irreversible damage. And every last part of this process could be avoided with a good cleaning!
Brushing Your Dog's Teeth
Brushing your dog's teeth will be a little difficult when you do it for the first time, but if you're gentle and allow your dog time to get comfortable with what's happening it can be a lot simpler than you may expect. Here's a quick Step-by-Step to help you become the best doggy hygienist out there!
Be gentle. Give your dog time to get used to having hands and brushes in their mouth.
Let your dog do a taste-test. Help them get used to the taste of dog-friendly toothpaste by licking it off your finger or brush.
Introduce the toothbrush. Allow your dog to get used to the idea of the toothbrush and see that it's nothing to be afraid of, but help them understand that this is not a toy.
Start small. Just brush a couple of your dog's teeth at first so they can get used to the sensation.
Move from Outside to Inside. Brushing the outer sides of your dog's teeth is less invasive, so it's generally a better idea to start here and move to the inner sides.
Introduce a routine. If you turn brushing your dog's teeth into a routine, it'll be easier for them to get used to it and for you to remember to do it regularly. Daily brushing will provide the best results, but even three times a week will make all the difference.
There are also a number of high-quality treats and chews that can contribute to better dental hygiene for your dog. These chews will keep your dog entertained, involve less work for you and will still provide a good clean (though you will still need to brush their teeth occasionally).
Four Tips to Make Brush-Time Easier
Your dog can sense if you're stressed or tense and will mimic these emotions, so try to keep calm!
Don't go straight for the goal - your dog will need time to adjust to this new experience!
The earlier you start (anytime after the age of 8 weeks), the better your dog will be at having their teeth brushed.
Don't be too hard on yourself: You aren't going to be able to brush your dog's teeth for a long time straight away. This is something that will get easier over time.