What to do when you find a missing cat: Kimba is Reunited! Monday 21 November 2016 @ 08:37
Back in April, we had a chance to read about Kimba's reunion with his owner, Cathy.
Kimba is not so much a family pet as he is a family member: He sits and watches as Cathy cooks dinner, follows Cathy and her dog when they go on walks through the neighbourhood, and loves to sleep cuddled up between his parents (Cathy and her partner).
None of this comes as a real surprise, when you consider the fact that Kimba has been with Cathy since he was just a kitten 10 years ago, and the pair have been inseparable ever since.
Cathy realised that Kimba was missing when she came home from a meeting at 7.30 one evening. He was last seen at four that afternoon when he had gone on a walk with Cathy and the dog, but he never left the back yard without his family so it was clear that something was wrong. Not only was Kimba missing, but since he was not usually one to go exploring, he was certainly terrified.
Support was good, I got an immediate email with more tips.
Cathy began her search, walking up and down the neighbourhood and retracing her steps from earlier in the day. She called Kimba's name constantly. When this didn't work, she began printing flyers and stuck them to poles in the area.
I loved the idea [of Lost Pet Finders]. My nurse at the vet mentioned it to me and i was straight on it.
Thankfully, with Lost Pet Finders on the case, Cathy and Kimba were reunited. Having registered with the service, Cathy heard from her vet that a neighbour had phoned in about a cat they had found. The neighbour had also received a Lost Pet Finders update on the area which mentioned Kimba, and was almost certain that she was looking at the same cat.
I love the idea of becoming a Lost Pet Finders supporter now, so I'm happy to get the emails - it makes it feel more like a community effort.
We are so glad to hear that Cathy and Kimba have been reunited, but it wouldn't have happened if her neighbour hadn't known what to do about the cat she had found.
I've found a lost cat! What should I do?
First things first: you need to work out if this is someone's lost cat, or if it's simply an outdoor cat on an adventure. It could even be a stray cat with no owner to reunite with.
As a general rule, if the cat appears to be calm and in good health, it's a good idea to leave it be and simply keep an eye out for "missing" flyers. On the other hand, if the cat seems to be injured, frightened or hungry, there's a high chance it's a lost pet or a stray.
Don't forget to check for a collar or tags, as these often have details for contacting the owner. If this is the case, it's often better to contact the owner and find out that the cat is simply on a walk than to give calling the owner a miss and find out later that it has gone missing.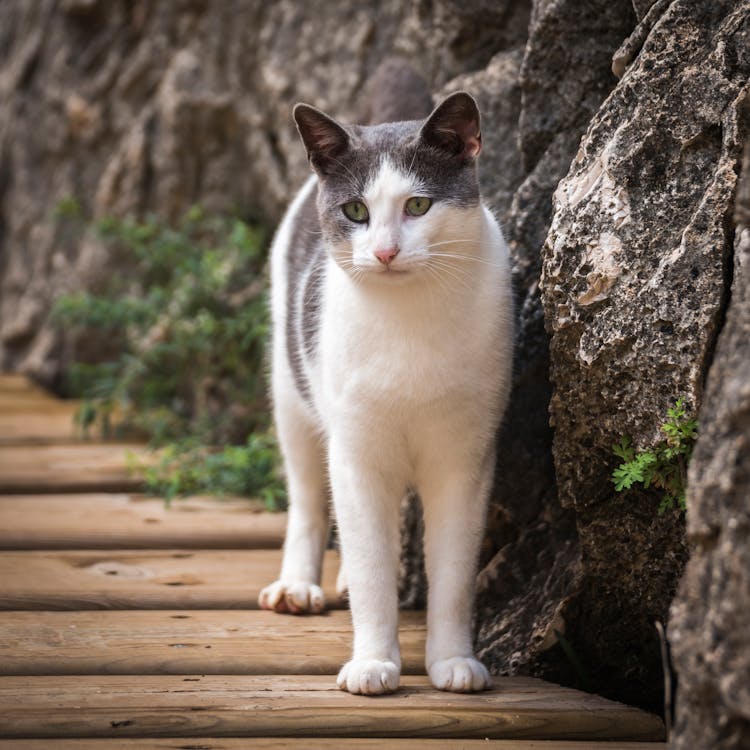 If you come to the conclusion that the cat is missing, try to catch it. You need to do this slowly and carefully, as cats tend to be able to run very quickly if you startle them! The goal is to get the cat into your custody without you or the cat getting injured.
As you move towards the cat, try speaking to it in a calm voice. Use your voice to soothe and attract the cat, using words that its owner may use such as meowing, clicking or calling "here, kitty kitty!"
If this doesn't work, you may want to try using food to attract the animal. This will both coax the cat towards you and help you to build trust. If you happen to own a cat, you can use cat food or treats for this. If not, just go for foods that cats like such as fish, milk or meats.
Once you've got the cat to come to you, you need to find some way of confining it safely. Cats don't often like to be held for long periods of time, so you'll have to find something to keep it in, such as a cardboard box, your car or a pet carrier. Whatever you end up using, make sure that it's safe and secure, it's not too hot, and that the cat has plenty of oxygen.
With the cat safely restrained, it's time to call someone who can help you. Often, a good choice here is to contact the authorities, such as animal control. If the cat you've found is wild, feral or aggressive, it's often a good idea to take this step first. If you have managed to get the cat into a box or carrier, it can be equally helpful to just take it to your local vet.
Will the cat be reunited with its owner?
Obviously, we can't know for sure. But there is a pretty high chance that the cat you find will be reunited with its owner, just like these guys have!
Rocket
"He made it home! Just such a relief to know you guys are around."
Harry
"Your service is absolutely great please keep up the great work to assist people being reunited with the family members"
Beastworthy
"Information was great!"
Jinja
"REUNITED! Jinja's home 1 month after he went out, thanks to website and all the good people who helped sharing!!"
Fleur
"Thank you to everyone looking out for our little Fleur! She was found yesterday and we could not be happier. It was great to have so many calls from locals keeping an eye out for her. Highly recommend this place when searching for a lost pet. Catherine"